WHAT ARE "CRITICAL MATERIALS"? AND WHY THEY ARE SO IMPORTANT?
THEY FEED OUR TECHNOLOGIES, THEY FEED OUR GREEN FUTURE
THEY ARE THE VITAMINS OF THE INDUSTRY!
A round table ("critical raw materials round table") is scheduled to take place on Thursday 13th october, afternoon, in the main plenary speaker room of SHIFT2022 conference venue. (please see updated SHIFT2022 schedule)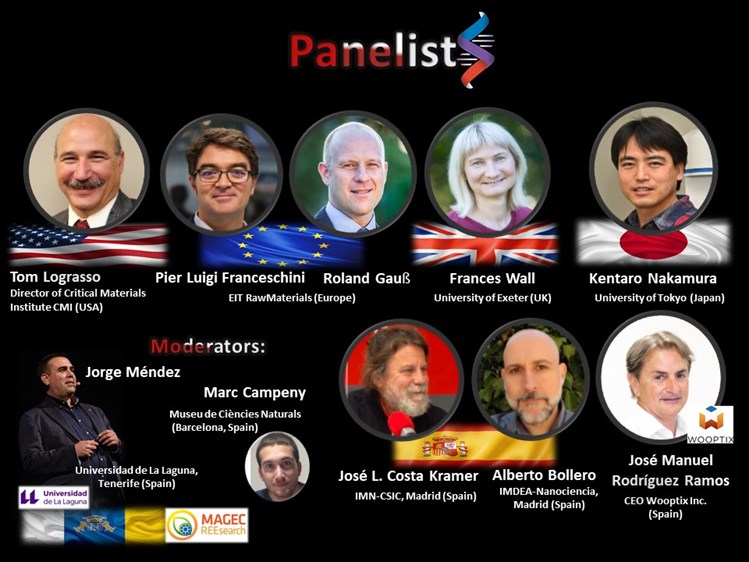 With the participation of: Tom Lograsso (Director, Critical Materials Institute CMI, USA), Frances Wall (University of Exeter, UK), Kentaro Nakamura (The University of Tokyo, Japan) and Pier Luigi Franceschini and Roland Gauss from EIT RawMaterials (Europe), Alberto Bollero (IMDEA-Nanociencia, Spain), Jose Luis Costa Kramer (IMN-CSIC, Spain) and Jose Manuel Rodríguez Ramos (CEO Wooptix Inc, Spain) 
Moderated and presented by Jorge Méndez (Universida de La Laguna, Chairman of SHIFT2022) and Marc Campeny (Museo de Ciencias Naturales de Barcelona, Spain)
Round table summary: Decarbonification, circular economy, and self-sufficiency will require a considerable effort from Europe in the next few years. This round table will enable an open discussion with international experts on the need of strategic materials in key sectors such as information technologies, energy and transportation to make possible achieving the European Green Deal objectives. Semiconductor chips, permanent magnets and batteries are main elements to achieve environmental, social and economic goals, but they require the use of raw materials currently under risk of shortage. This critical situation and possible alternatives will be discussed.