Selected papers with science presented by our very relevant speakers at SHIFT 2022 will be published in a forthcoming Special Issue of Optical Materials published by Elsevier. More details can be found at: 
https://www.journals.elsevier.com/optical-materials/forthcoming-special-issues/call-for-paper-on-special-issue-shift-shining-a-light-on-biomedical-and-energy-applications
Call for Paper for "Optical Materials" Special Issue on – SHIFT: SHINING A LIGHT ON BIOMEDICAL AND ENERGY APPLICATIONS
We can proudly announce the launch of a special issue to be publihsed in "Optical Materials" (Elsevier, I.F: 3.754) with selected papers from very relevant colleagues (Plenary, Keynote and Invited speakers) and also contributed authors presenting their works at SHIFT 2022 Conference
NEW EXTENDED DEADLINE FOR SUBMISSION: 31-January-2023
Editorial Acceptance Deadline: 01-Mar-2023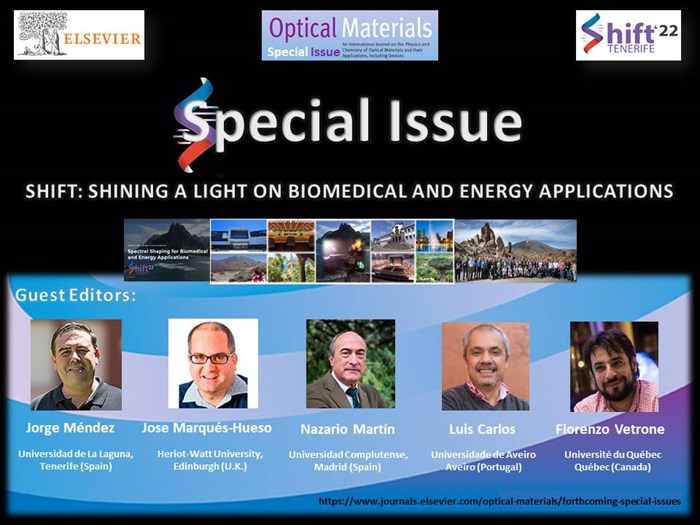 Guest editorial team:
Dr. Jorge Méndez-Ramos, Department of Physics, University of La Laguna, Tenerife, Canary Islands, Spain.
jmendezr@ull.edu.es
Dr. José Marqués-Hueso, School of Engineering and Physical Sciences, Nature Inspired Manufacturing Centre, Heriot-Watt University, Edinburgh, U.K.
J.Marques@hw.ac.uk
Dr. Nazario Martín, Department of Organic Chemistry, Faculty of Chemistry, Complutense University, Spain
nazmar@ucm.es
Dr. Luis D. Carlos, Phantom-g, CICECO − Aveiro Institute of Materials, Department of Physics, University of Aveiro, Aveiro, Portugal
lcarlos@ua.pt
Dr. Fiorenzo Vetrone, Institut National de la Recherche Scientifique, Centre Énergie, Matériaux et Télécommunications (INRS - EMT), Université du Québec, Canada
Fiorenzo.Vetrone@inrs.ca
Manuscript submission information:
Manuscripts should be submitted using the online submission system of the journal at https://www.editorialmanager.com/om/default1.aspx.  Authors should select article type 'VSI: SHIFT2022 special issue ' during the submission. The author guidance could be found at https://www.elsevier.com/journals/optical-materials/0925-3467/guide-for-authors.
Keywords:
photochemistry, photocatalysis,
solar fuels,
plasmonics,
dye-sensitized solar cells,
perovskites solar cells,
anti-counterfeiting,
bioimaging,
nanothermometry,
critical materials​
Learn more about the benefits of publishing in a special issue: https://www.elsevier.com/authors/submit-your-paper/special-issues