Conference will comprise 10 Plenary Sessions and two parallel sessions (Bio / energy and other applications): 
DURATION OF TALKS: 
PLENARY TALKS: 45 MIN + (5 min Questions)
KEYNOTE TALKS: 30 MIN  (including 3 min Questions)
INVITED TALKS: 20 MIN  (including 2 min Questions)
CONTRIBUTED TALKS: 15 MIN  (including 2 min Questions)
"Biomedical applications" and "Energy and other applications" and also a Satellite meeting called Doing Biology with Light" (SHIFT-DBL) devoted to: novel microscopy approaches, fluorescent sensors, lifetime imaging, spectral imaging, neurophotonics, optogenetics, and high-resolution imaging in tissue
Conference will be hosted at UNIVERSIDAD DE LA LAGUNA (ULL) (CAMPUS GUAJARA and CAMPUS CENTRAL) and PARQUE CIENTÍFICO INtech Tenerife
CONFERENCE LOCATIONS..cliCk on this google maps link to see all details:
https://www.google.com/maps/d/edit?mid=1N80Zaedocb_aYFVVeyVD7R7mPfEhONo&usp=sharing
Conference venue maps below: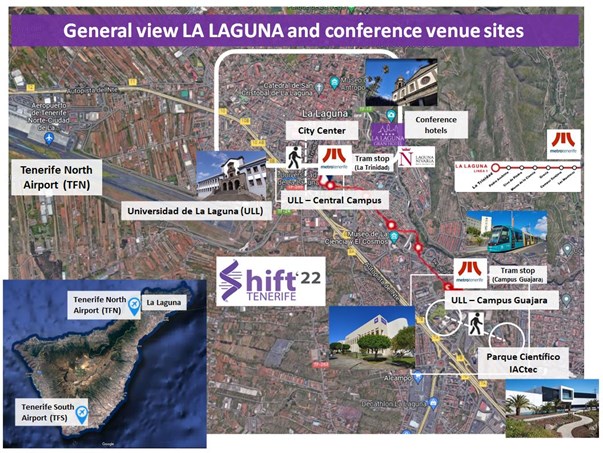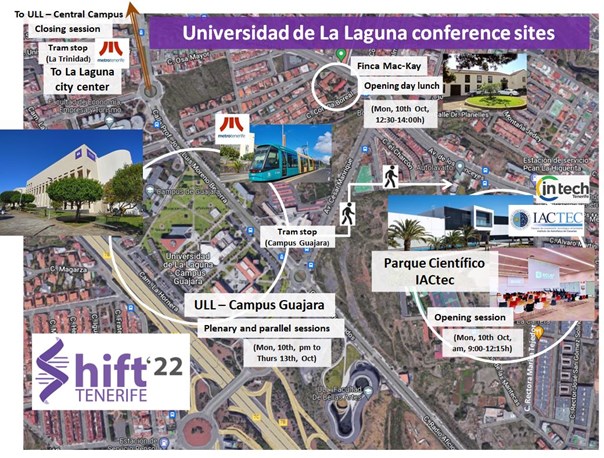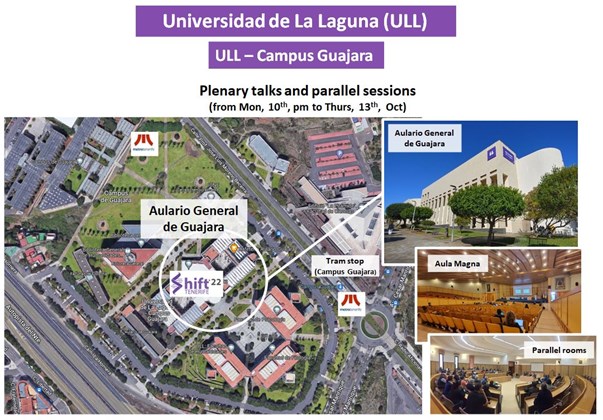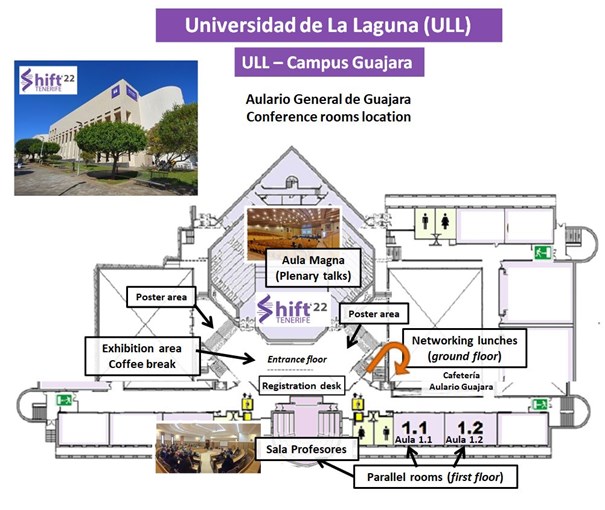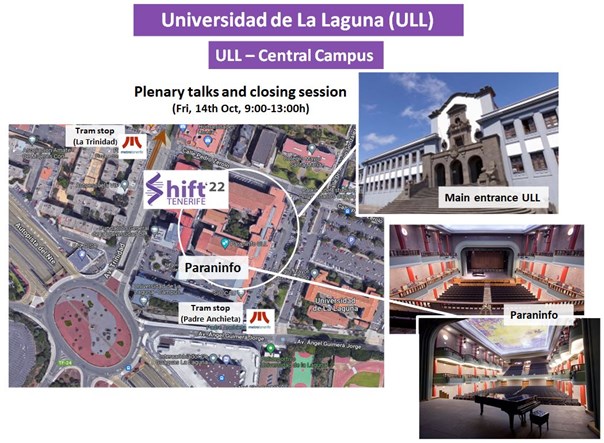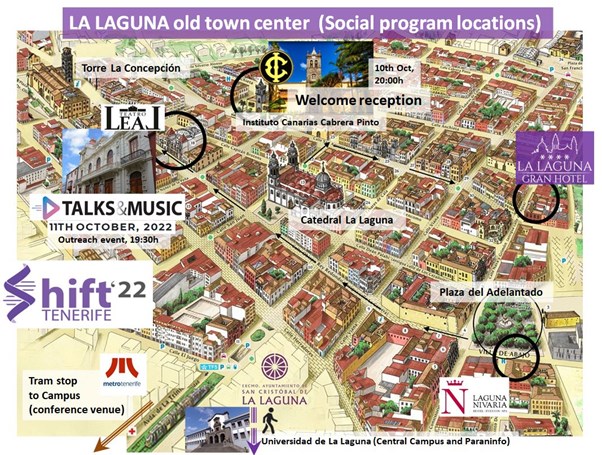 REMEMBER, POST-CONFERENCE EXCURSION!!!
LAST DAYS TO REGISTER!!!
TOUR TO LA PALMA - SATURDAY 15 OCTOBER (LIMITED PLACES)
This optional excursion will be beneficial to raise funding from people of some small villages in La Palma who have lost their properties destroyed by the lava.
We really encourage all SHIFT 2022 participants to join us in this post-conference beneficial excursion to help people of La Palma after vulcano eruption! 
SHIFT2022 organization has planned an optional excursion (1 day return trip by domestic flight, only 40 min, to the neighbor island, La Palma, after the scientific programme, that is, on Saturday 15th October 2022). La Palma is the most western Canary Island with stunning views and a National Park. And of course we will be able to see the volcano at "Cumbre Vieja" that ended its activity just very recently (December 2021) It is absolutely spectacular to see the landscape after this eruption, how Earth is born.